The many properties of copper make it an ideal metal for a wide variety of applications. Aside from its well-known conductivity, copper is a strong metal that can be easily shaped and configured. Its corrosion and wear resistance ensures that it will be long lasting and able to endure severe and harsh conditions.
A common use for copper is as a coil because of its thermal and electrical conductivity. Copper coils are used for a variety of products such as space heaters, solenoids, and heat transfer products. The engineers, designers, and experts at Metal Associates have worked with copper for many years and are able to configure it to fit the needs of any application or product.
What is Copper Coil?
It may seem that a copper coil is a simple piece of coiled wire that can be wound and put to use. As with any form of industrial product, copper coils have to be precisely engineered to fit an application. The winding process has to be completed with precision to ensure the proper distance between the wires and the diameter of the opening.
Each product that uses copper coils requires that a certain number of turns be made to provide the correct amount of resistance. Inaccurate calculations can lead to inefficiency and possible failure of the coil or device. For this reason, the engineers at Metal Associates guarantee that they have closely examined the specification of an application such that the diameter, spacing, wire thickness, and number of turns exactly matches the design of the product where the copper coil will be used.
Why Copper Coils are Used
A major concern for society and modern business is sustainability, which is the preservation of our environment for future generations. In recent years, there has been a wide assortment of initiatives sponsored by prominent businesses in an effort to ensure the ongoing health of our society. Metal Associates leaders and team members are deeply aware of this concern and have worked diligently to be a leader in the sustainability movement.
Our dedication to sustainability can be seen in our use of copper, which is a flexible and adaptable metal that can be easily recycled and reused multiple times to be configured for a wide variety of products. Metal Associates copper coils are long lasting and durable. When they are no longer needed or reach the end of their usefulness, they can be returned, repurposed, and remanufactured.
It is this characteristic of copper coils that makes them a highly valuable asset and material for electrical products. Regardless of how copper is used, it has the sustainability to be quickly, easily, and efficiently recycled and still offer optimum performance.
Metal Associates Copper Coils
Copper coils are a widely used product and can be found in every business, home, office, and industrial operation. Though there are many manufacturers that produce copper coils, Metal Associates has been found to be the perfect choice due to our focus on customer service and the details required for every customer's project.
When you work with us, you will receive the same service whether you are a small operation starting out or a large corporation developing a new line of products. Our many years in the copper, bronze, and brass industry has made us experts in meeting and exceeding customer demands, regardless the required turnaround times or types of wire needed.
As you develop new products and are searching for the perfect match for your copper coil needs, remember that Metal Associates is a company that has succeeded and grown by dedicating ourselves to the needs of our customers and their demands.
What Are Your Coil Material Options?
Alloys Offered by Metal Associates for Coil Fabrication:
As we mentioned earlier, we offer not only standard metal options, but many alloy options as well.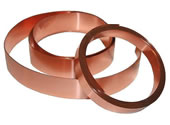 Our copper offerings include:
CDA 101, 102 OFHC
CDA 107 Silver Bearing OFHC
CDA 110 Electrolytic Tough Pitch
CDA 113, 114, 117 Silver Bearing
CDA 122 DHP
CDA 145 Tellurium Copper
CDA 150 AMZIRC, Zirconium Copper
CDA 162 Cadmium Copper
CDA 172, 173, 175, 17510 Beryllium Copper
CDA 182 Chromium Copper
CDA 187 Leaded Copper
CDA 194, 195 Iron Bearing Copper
---
About Us
Metal Associates is a metal supplier that specializes in the distribution of high quality copper, brass and bronze products. Along with those, we supply customers all across the board with ferrous and non-ferrous metals and metal alloys such as aluminum, carbon steel, cupronickel and invar. In addition, because we are a full line distributor, we are able to offer our metal products in virtually all shapes, sizes and tempers. In addition to our metal and stock metal shape products like brass plates, we offer products, such as waveguide tubing and lock wire, for specific applications. Here at Metal Associates, we are committed to providing our customers with outstanding metal products for their projects that are long-lasting and reliable. We believe in quality. To make sure that you are satisfied and that you get those "hard to find" alloys that you are looking for; we will work with you every step of the way. There is no project too challenging for our highly trained staff. If you have any special requests then do not hesitate to let one of our representatives know.
Call, email, fax us or submit an information request to learn more
. We cannot wait to work with you.