Metal Associates is a highly respected distributor and supplier of ferrous and non-ferrous metal and stock metal products, including aluminum, carbon steel, copper, copper tubes, copper bar and brass plates. We use only the finest and purest metals and metal alloys, so that our customers will receive only the most value-adding results. In addition to all of our other high quality products, we here at Metal Associates also provide our customers with copper coils, brass coils and bronze coils of the highest caliber.
What are Metal Coils?
Our coils, which are metal strips wound in a spiral pattern, allow applications in many industries to reach their full potential. Every coil type offers something different. Our copper coils, for example, are known for their excellent thermal and electrical conductivity. As a bonus, they are also antimicrobial, meaning they will resist bacterial growth, and they are recyclable, which is always a good thing. With qualities like theirs, they make great components of automotive electronics like starters, telecommunication devices, power stations, adaptors, refrigerators, washing machines and more. Our brass coils, which are made primarily from copper and zinc, are both electrically conductive and corrosion resistant, and as such, they lend themselves incredibly well as components of electrical devices. Because brass is so attractive, our brass coils can even be used on interiors and exteriors of structures as decorative pieces. Also, here at Metal Associates, we use only the most thinly cut brass to form our coil products, which means that our customers will find them both light and malleable. Thus they are perfect for applications that cannot tolerate much extra weight, and/or are small in diameter. Finally, our bronze coils, similar to those mentioned before them, exhibit characteristics of high thermal and electrical conductivity, high corrosion and wear resistance and excellent malleability. Our bronze coils have a variety of applications in the automotive manufacturing, construction, electronics, electrical assembly and marine technology industries. They are particularly useful in marine settings because they are exceptionally resistant to corrosion from seawater.
What Are Your Coil Material Options?
Alloys Offered by Metal Associates for Coil Fabrication:
As we mentioned earlier, we offer not only standard metal options, but many alloy options as well.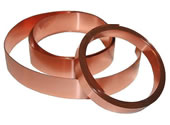 Our copper offerings include:
CDA 101, 102 OFHC
CDA 107 Siver Bearing OFHC
CDA 110 Electrolytic Tough Pitch
CDA 113, 114, 117 Silver Bearing
CDA 122 DHP
CDA 145 Tellurium Copper
CDA 150 AMZIRC, Zirconium Copper
CDA 162 Cadmium Copper
CDA 172, 173, 175, 17510 Beryllium Copper
CDA 182 Chromium Copper
CDA 187 Leaded Copper
CDA 194, 195 Iron Bearing Copper
---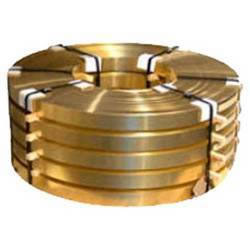 Our brass offerings include:
CDA 210 Guilding Brass
CDA 220 Commercial Bronze
CDA 230 Red Brass
CDA 240 Rich Low Brass
CDA 260 Cartridge Brass
CDA 268, 272 Yellow Brass
CDA 280 Muntz Metal
CDA 314 Leaded Commercial Brass
CDA 330 Low Leaded Tube Brass
CDA 353, 356 High Leaded Brass
CDA 360 Free Cutting Brass
CDA 464 Naval Brass
CDA 482, 485 Leaded Naval Brass
---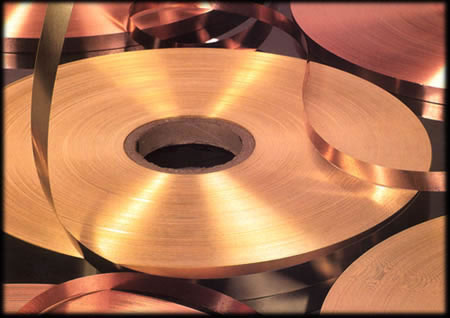 Finally, our bronze offerings include:
CDA 510 Grade "A" Phosphor Bronze
CDA 511 Phosphor Bronze
CDA 521 Grade "C" Phosphor Bronze
CDA 544 B-2 Phosphor Bronze
CDA 630 Nickel Bearing Aluminum Bronze
CDA 642 Aluminum Silicon Bronze
CDA 651, 655 Silicon Bronze
CDA 675 Manganese Bronze
CDA 706 Cupro-Nickel 10%
CDA 715 Cupro-Nickel 30%
CDA 725 Cupro-Nickel
CDA 752, 762, 770 Nickel Silver
CDA 932 Bearing Bronze
CDA 954 Aluminum Bronze
---
The great variety of alloys we offer is a great advantage to our customers, because those individual alloys have properties that are so different from one another. It does not matter if you require a metal coil that is highly malleable, or you require a metal coil that is incredibly carded. No matter what you need, Metal Associates will be able meet, if not exceed, your requirements.
Why Else Should You Work With Us?:
Metal Associates' Copper, Brass and Bronze Coil Secondary Services
At Metal Associates, we don't just offer the bare minimum. Quite the opposite, with the comprehensive services and servicing we offer, you'll never want for anything. Whether we do it on-site or we enlist the assistance of any one of our good friends in the metal industry, we will make sure that your coils meet your specifications exactly. In order to do so, we will perform secondary processes including re-rolling, leveling, cutting to length and slitting. In addition, we are more than willing to fill requests for products with custom lengths, diameters and thicknesses. Of course, as we mentioned before, to fit the unique needs of an individual application, we make available to our customers innumerable different grades and alloy grades of copper, brass and bronze alike. The engineers and sales staff at Metal Associates are excited to work with you every step of the way, to make sure that you are completely satisfied not only with your coil products, but with your experience with us.
About Us
Metal Associates is a metal supplier that specializes in the distribution of high quality copper, brass and bronze products. Along with those, we supply customers all across the board with ferrous and non-ferrous metals and metal alloys such as aluminum, carbon steel, cupronickel and invar. In addition, because we are a full line distributor, we are able to offer our metal products in virtually all shapes, sizes and tempers. In addition to our metal and stock metal shape products like brass plates, we offer products, such as waveguide tubing and lock wire, for specific applications. Here at Metal Associates, we are committed to providing our customers with outstanding metal products for their projects that are long-lasting and reliable. We believe in quality. To make sure that you are satisfied and that you get those "hard to find" alloys that you are looking for; we will work with you every step of the way. There is no project too challenging for our highly trained staff. If you have any special requests then do not hesitate to let one of our representatives know.
Call, email, fax us or submit an information request to learn more
. We cannot wait to work with you.